Paul Boross and Scott Quinnell have teamed up to combine their expertise in rugby and leadership to produce their latest book, complete with a foreword by renowned rugby manager Sir Clive Woodward.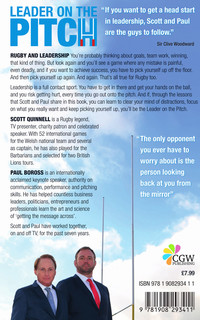 Leader on the Pitch brings the wisdom of the game of rugby into the business world with expert guidance from rugby legend Scott Quinnell and TV psychologist Paul Boross. RUGBY AND LEADERSHIP You're probably thinking about goals, team work, winning, that kind of thing. But look again and you'll see a game where any mistake is painful, even deadly, and if you want to achieve success, you have to pick yourself up off the floor. And then pick yourself up again. And again. That's all true for Rugby too. Leadership is a full contact sport. You have to get in there and get your hands on the ball, and you risk getting hurt, every time you go out onto the pitch. And if, through the lessons that Scott and Paul share in this book, you can learn to clear your mind of distractions, focus on what you really want and keep picking yourself up, you'll be the Leader on the Pitch.
Paul Boross is the world's only presentations and pitch specialist, business trainer and life change expert with 25 years of front-line experience of both motivational psychology and high profile work in television, stage, music, comedy and the corporate world.
As an internationally acclaimed authority on communications, presentation, performance and pitching skills, Paul has worked with leading business people, politicians and performers on the art and science of 'getting the message across'.
Scott was born into a family of Rugby legends - son of Derek Quinnell, legend of rugby union, and Madora John, the sister of Barry John 'The King', with godfather Merv 'the Swerve' Davies.
Scott started playing rugby for Llanelli Juniors at 8 years old and went on to play Internationally for Wales 52 times and also played for the Barbarians, joining two British Lion tours in 1997 and 2001.
Scott now appears regularly on Sky Sports and is a recurring character in the Sky comedy show 'Stella'. He has appeared on The One Show, A Question Of Sport, Soccer AM and Sky TV's 'School Of Hard Knocks'.
Together, Paul and Scott appear on Sky's School of Hard Knocks, helping disadvantaged young men to get back on their feet by learning the discipline of rugby.