The CEO and Board Member's Survival Guide
Strategic Governance For Small to Mid-Cap Entrepreneurial Organizations That Capitalizes on Opportunities and Minimizes Risk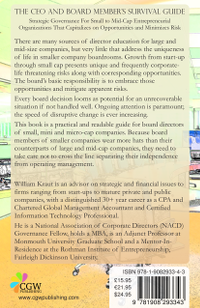 ISBN 978-1-908293-34-3
January 2015
There are many sources of director education for large and mid-size companies, but very little that address the uniqueness of life in smaller company boardrooms. Growth from start-up through small cap presents unique and frequently corporate-life threatening risks along with corresponding opportunities. The board's basic responsibility is to embrace those opportunities and mitigate apparent risks. Every board decision looms as potential for an unrecoverable situation if not handled well. Ongoing attention is paramount; the speed of disruptive change is ever increasing.
This book is a practical and readable guide for board directors of small, mini and micro-cap companies. Because board members of smaller companies wear more hats than their counterparts of large and mid-cap companies, they need to take care not to cross the line separating their independence from operating management.
William Kraut is an advisor on strategic and financial issues to firms ranging from start-ups to mature private and public companies, with a distinguished 30+ year career as a CPA and Chartered Global Management Accountant and Certified Information Technology Professional.
He is a National Association of Corporate Directors (NACD) Governance Fellow, holds a MBA, is an Adjunct Professor at Monmouth University Graduate School and a Mentor-In-Residence at the Rothman Institute of Entrepreneurship, Fairleigh Dickinson University.