An Outspoken Guide to Working With Headhunters, Advancing Your Career and Reaching Enlightenment... Without the Sugarcoating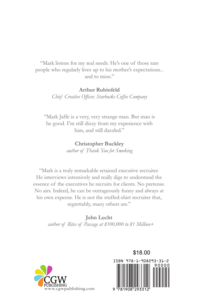 ISBN 978-1-908293-31-2
November 2014
Let Me Give It To You Straight is an examination of the human condition as seen through the striving of corporate management, a guide to getting ahead without getting mustard on your jacket. If you're bored to tears with business books that take themselves too seriously and then don't even bother to tell you the meaning of life, look no further.
If you want an insider's view of the secretive, mysterious world of the headhunter then this is the book for you. Mark Jaffe, ranked by BusinessWeek as "One of the world's 100 most influential headhunters", shares his experience in placing executives in a wry, witty and stylish way that gives you a genuinely unfair advantage when planning your next career move.
You can order your first edition copy online right now. No waiting. It's a perfect gift for anyone old enough to get a job. Plus, they'll probably enjoy not receiving a box from Harry & David again this year.
Let Me Give It To You Straight. It may be the last book you'll ever need.
www.letmegiveittoyoustraight.com