Michael Heath's research shows you how to match the right mentor to the right student to get the best results for both,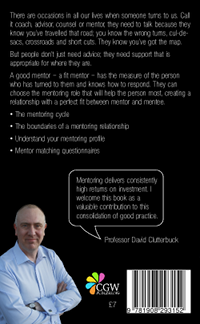 To Mentor another human being is a noble act that will leave a legacy of your wisdom and insight long after the relationship has ended.
There are occasions in all our lives when someone turns to us. Call it coach, advisor, counsel or mentor, they need to talk because they know you've travelled that road; you know the wrong turns, cul-de-sacs, crossroads and short cuts. They know you've got the map. But people don't just need advice; they need support that is appropriate for where they are.
A good mentor - a fit mentor - has the measure of the person who has turned to them and knows how to respond. They can choose the mentoring role that will help the person most, creating a relationship with a perfect fit between mentor and mentee.
The mentoring cycle

The boundaries of a mentoring relationship

Understand your mentoring profile

Mentor matching and evaluation questionnaires
The Fit Mentor features a foreword by Professor David Clutterbuck.