This is the definitive NLP Master Practitioner Manual, containing everything that you need to model talents and create custom techniques in any situation.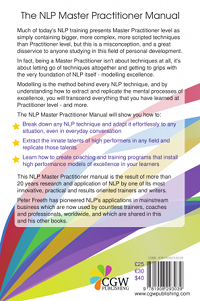 Peter Freeth has probably more experience of applying NLP in a professional and business context than any other trainer working in the field, and over the past 20 years has created many innovations now used by trainers all over the world.
Becoming a Master Practitioner of NLP means letting go of the techniques you've already learned and getting to grips with the very foundation of NLP itself - modelling excellence.
Modelling is the method behind every NLP technique, and by understanding how to extract and replicate the mental processes of excellence, you will transcend everything that you have learned at Practitioner level - and more.
The NLP Master Practitioner Manual will show you how to:
Break down any NLP technique and adapt it effortlessly to any situation, even in everyday conversation
Extract the innate talents of high performers in any field and replicate those talents
Learn how to create coaching and training programs that install high performance models of excellence in your learners
This NLP Master Practitioner manual is the result of more than 20 years research and application of NLP by one of its most innovative, practical and results oriented trainers and writers. Peter Freeth has pioneered NLP's applications in mainstream business which are now used by countless trainers, coaches and professionals, worldwide, and which are shared in this and his other books.
"Peter Freeth nails it big time with his ability to put advanced NLP instruction into words and concepts that open the curtains to the backstage secrets for NLP mastery. I have seldom read a book on NLP modelling and the underlying structures of human excellence that explains the magic of NLP more effectively than Peter Freeth has in his new book. Buy it Now! Five Big Stars!!!" Jeff Zadzilka