The Pocket Pitching Bible is the companion guide to the author's first book and Amazon top seller, The Pitching Bible. Carry this pocket guide with you and never be unprepared for a pitch again.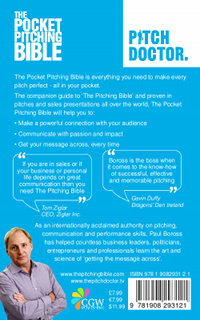 Everything you need to know to get your message across, The Pocket Pitching Bible is a unique companion guide to the original book, The Pitching Bible. This new book is trimmed right down to the essentials; just the checklists, exercises and core content that will help you to prepare for any pitch, quickly. Take it everywhere with you and never be put on the spot again!
Proven in pitches and sales presentations made all over the world in all markets, the Seven Secrets of a Perfect Pitch will help you to:
 Make a powerful connection with your audience
 Communicate with passion and impact
 Get your message across, every time
Paul Boross is the world's only presentations and pitch specialist, business trainer and life change expert with 25 years of front-line experience of both motivational psychology and high profile work in television, stage, music, comedy and the corporate world.
As an internationally acclaimed authority on communications, presentation, performance and pitching skills, Paul has worked with leading business people, politicians and performers on the art and science of 'getting the message across'.
Download a PDF preview of this book.