DIY and Self Serve Market Research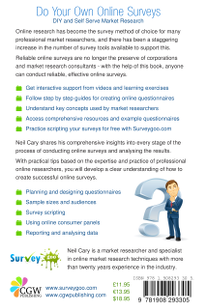 ISBN 978-1-908293-30-5
Online research has become the survey method of choice for many professional market researchers, and there has been a staggering increase in the number of survey tools available to support this.
Reliable online surveys are no longer the preserve of corporations and market research consultants - with the help of this book, anyone can conduct reliable, effective online surveys.
Neil Cary shares his comprehensive insights into every stage of the process of conducting online surveys and analysing the results. 
With practical tips based on the expertise and practice of professional online researchers, you will develop a clear understanding of how to create successful online surveys. 
Planning and designing questionnaires
Sample sizes and audiences
Survey scripting
Using online consumer panels
Reporting and analysing data
Get interactive support from videos and learning exercises
Follow step by step guides for creating online questionnaires
Understand key concepts used by market researchers
Access comprehensive resources and example questionnaires
Practice scripting your surveys for free with Surveygoo.com